How do you Adjust a harness on your furry little friend? Well, it's very simple to do so. Usually, there are two types of harnesses, a Step-in harness, and an Over-head harness.
Chihuahua's natures are relatively well-behaved when it comes to being able to put them in a harness.
Unlike bigger dogs or more hyperactive dog breeds, the Chihuahua family are a calmer natured breed and obviously the older the age of your Chihuahua, the better the ability you will have to ensure he or she stands still while you are putting the harness on them.
Another important factor is remembering the more the harness is placed on your Chihuahua, the more they too will become used to and comfortable with this practice.
Preferably, if you could introduce this practice to your puppy-aged Chihuahua, this would set you up for very time-saving practices when wishing to go places with your beloved Chihuahua.
The harness is a comfortable device invented to replace the standard dog collar. One strap is placed under your Chihuahua's belly, leave it unstrapped so that it can be adjusted for the other side of your harness. Now tighten the top and lower straps until it fits snug around your dog's waist.
This creation was devised with not only comfort in mind, but also offering the animal owner less fear of injuring your Chihuahua's neck when restraining your pet.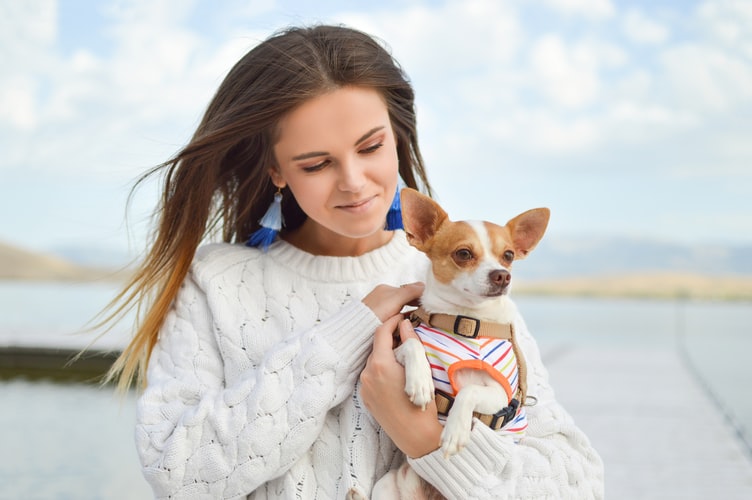 The regular collar, when pulling up your Chihuahua can hurt their necks as all the pull is in that one area compared to the harness which uses the Chihuahua's body to pull up the animal, therefore using the entire weight of the animal over the neck area.
You can also purchase many patterns, designs, sizes to suit you and your companion with some very glamorous, funky, cool and stylish harnesses available world-wide.
If you are creative yourself, you could easily make your own harness for your beloved Chihuahua that is unique and sure to be noticed as the envy of all other Chihuahua when out on your next adventure.
Purchasing your harness for your fur-baby is available online or at your closest pet store outlet.
The price ranges for a suitable harness depends on the size you are looking for and the design, along with factoring in sturdiness as well.
These can cost anywhere between $15 to $150 factoring in if you purchase one online you can expect to pay slightly extra for shipping and or taxes.
A Step-in Harness Helps To Disperse Over The Back And Chest
For a Step-in harness, you will need the harness to be on the ground flat. Then you will need your Chihuahua to have their front legs on the open loop of the harness.
Harness on ground
Chihuahua front legs go through the open-loop
Pull up harness around Chihuahua body
Clip the buckle together
Check harness is not too tight or too loose
When that is done all you will be needing to do is pull it up and then buckle the clips together.
You will want to check that the harness is not to tight nor too loose, to check if it's just right, you will want to place two of your fingers in the neck of where the harness sits on the Chihuahua.
If your fingers sit just comfortably then it is just right, so your dog is not escaping in a hurry! As I learned that from my Chihuahua escaping and running through the entire school!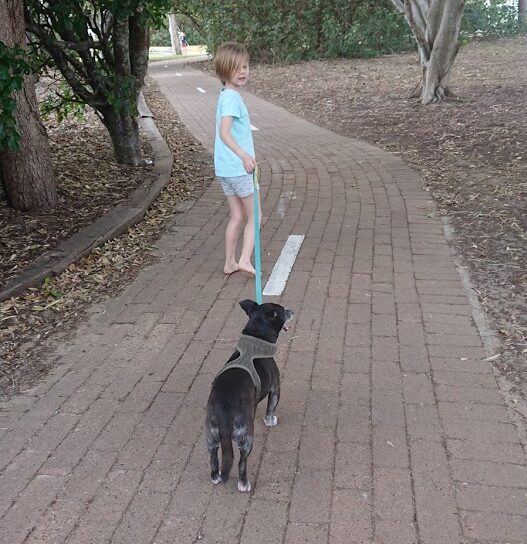 Over-head Dog Harness Can Work But Slip Off Easy
To use the over-head harness all you need to do is slip the neckpiece of the harness over your chihuahua's head.
Now you can pull down on the bottom straps that wrap around under your chihuahua's body or belly area and you are left with only one strap that comes up and across the back.
Slip the neckpiece of the harness over the chihuahua's head
Pull down the bottom straps that wrap around the chihuahua's body
Pull the strap that is left up and across the chihuahua's body
Alternatively, if your chihuahua's harness is connected on only one side you should encourage your chihuahua to step through the loop area and then fix the clasp straps together on the other side of the harness.
However, if your clasp is not connected to on one side, clasp both straps that are positioned on two sides.
Dog Harness Handy Tips
Another handy tip for purchasing your harness for your Chihuahua is to look for a harness that also comes with a pet restraint seatbelt
I love these as they are just as important as having a harness that won't cause injury to your pet.
These are easy to use as you simply put the harness onto your pet and you attach the clip into the ring that is located on the harness near the spine side and clip the other side into your regular seat belt clasp just as we humans would use to fasten ourselves into our car seated areas for safety.
If you were unfortunately in a car accident, you can rest assure that your Chihuahua is safe with one of these pet seatbelt restraints used in conjunction with a well-fitted harness.
The reason this is much better to use with a harness and not your standard dog collar is it prevents injury to the dog's neck area which could lead to choking, permanent muscle damage, spinal injuries or death.
The harness allows the body to take the force and therefore preventing the neck containing major injury or becoming fatal.
Do you ever get distracted by your chihuahua moving around on the seats? Or perhaps they're trying to get on your seat and distract you from driving safely.
Whatever the issue is, the seatbelt restraint will sure fix that! But still making it comfortable and somewhat moveable for your Chihuahua.
One of the best discoveries I have found in owning a harness for Chihuahua is the fact that it cannot slip off like your regular dog collar.
However, I have actually experienced this happening as I told you about before and this was due to me not checking to ensure my furry best friend was secure properly in his harness.
He came free from too much social attention, then pulled back and this allowed him to free himself from not only the dog lead but the harness itself.
From here, he went on a roam through my school for ten minutes until we caught him up again! Lucky for me most Chihuahuas are good with children.
It was pretty funny, but also scary too and this is where I learned that making sure his harness was put on properly was just as important as owning one.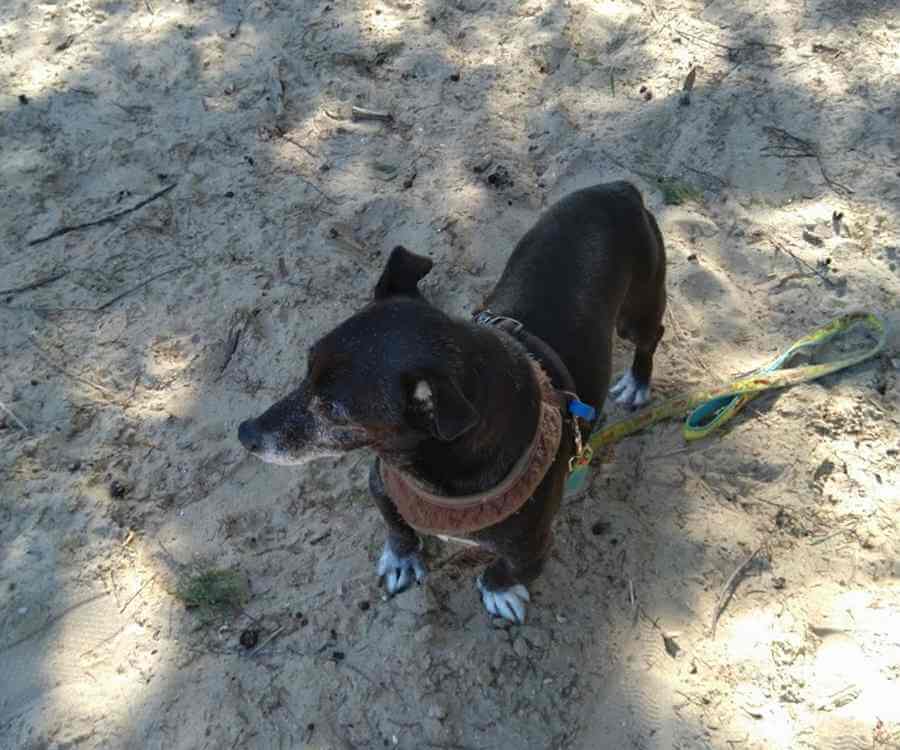 Caring For Your Dogs Harness
Keeping your Chihuahua's harness clean is just as important as ensuring he or she wears one.
This is not only because it will get dirty looking over time, but also due to bacteria, ticks, parasites, fleas and other little critters that can become lodged in the webbing of the harness and breed excessively.
However, you CAN'T just wash your furry friends harness like you would wash your own belongings!
Firstly, you can't wash your harness in a top loader washing machine as the agitator that lives in the centre of the bowl is where the harness clips can get caught, start to pull the fibres apart and basically wreck your new harness.
You can, however, wash your harness in a front loader washing machine as it does not have an agitator, therefore, there is nothing for the harness to get stuck to.
Choosing a sensitive wash powder or dog shampoo as some opt to use, is another important thing to remember before washing your dog's harness.
This is because dogs of all breeds are sensitive to wash powders and other cleaning items that we humans use and if you use a washing powder that is too strong, your poor little Chihuahua will be itching for days!
You can alternatively opt not to use the front loader washing machine and hand clean your harness in a tub with mild soap or wash it out using your regular back garden hose as the pressures from this will remove any dirt, debris and little fleas and insects that were thinking of making the harness their home!
I hope that this will help you and your Chihuahua to find a suitable harness, know how to adjust it, keep it clean and encourage you to use it every day!
More Pages On Dogs
link to Do Chihuahuas Shed A Lot?
There are so many factors to deciding what type of dog is right for you, and one stumbling block that can be often overlooked is the amount of shedding. Cleaning up dog hair is a pain. It can get...
link to What Problems Do Chihuahuas Have?
Anyone who has owned a Chihuahua knows that they are a breed all of their own. Although they are the smallest dog breed, they have a huge personality that makes them a fun and entertaining addition...