Chihuahuas are full of personality and small enough to easily carry with you. Owners naturally want to take them along everywhere–but do Chihuahuas like to go everywhere? Would a Chihuahua be happy, for instance, on an outing to the beach?
Chihuahuas like the beach. While some Chihuahuas may not, they are generally happy to be in the sun, playing with their families. Not all Chihuahuas enjoy the water, but there's plenty of fun to be experienced just frolicking in the sand.
Read on to find out what makes the beach a great place for some Chihuahuas and a frightening experience for others. Learn what you can do as an owner to tip the odds in favor of having a beach-loving dog, and how to take precautions to keep your beloved Chi safe in the sun and water.
Do Chihuahuas Like New Environments?
As long as a Chihuahua has been well-trained and socialized to enjoy meeting new people, the new environment of the beach shouldn't present a problem. Chihuahuas can be very outgoing and friendly dogs when they've been properly trained.
Not all Chihuahuas are temperamentally suited to be suddenly surrounded by a new environment full of strangers, however. Chihuahuas tend to prefer to socialize with other Chihuahuas and may also have "Small Dog Syndrome," making them appear aggressive to others when they are just frightened.
If your Chihuahua falls into this category, it would be a good idea to introduce it gradually to the new sights and sounds of the beach.
Do Chihuahuas Like the Sun?
Chihuahuas love the sun. As dogs that were bred in the desert climate of Northern Mexico, they prefer to be warm–even an air-conditioned room can be uncomfortably cold for these small dogs.
To make sure that these little dogs can enjoy the sun safely, owners need to take a few precautions. Because they stand only 5-8 inches (13-20 cm) off the ground, Chihuahuas are exposed to more reflected sunlight than larger dogs are. This means that they can burn quickly.
Dog Safe Sunscreen
Apply sunscreen to Chihuahuas whenever they will be out in the sun for more than a few minutes. Cover their stomach, ears, nose, and any other hairless spots, and be sure to watch these areas for signs of sunburn.
If your sunscreen comes in a spray container, it's a good idea to spray it on your palm and rub it onto the Chihuahua's skin rather than trying to spray the dog directly. The sound of the spray might frighten a Chihuahua.
Dogs need sunscreen that doesn't contain either PABA or zinc oxide. These ingredients can make dogs ill. To be sure a sunscreen is dog-safe, it's best to buy a product made specifically for dogs.
Not sure where to find dog sunscreen? Here are some recommendations:
Emmy's Best Dog Sun Skin Protector Spray: Emmy's Best sunscreen is safe for all breeds and doesn't contain zinc oxide.
Epi-Pet Sun Protector Spray for Pets: This FDA-compliant pet sunscreen also conditions your dog's skin and coat.
SIT. STAY. FOREVER. Organic Sunscreen & Moisturizer: For an all-natural sunscreen, consider this one, made from raspberry and carrot seed and hemp oil.
Fresh Drinking Water
Be sure to bring water for your Chi. Frozen treats like ice or frozen dog food are also a great idea if you can provide them. Remember that your dog will need more water than usual in the heat and that when they're active, dogs need more water than humans do, relative to size.
It's not always convenient to bring their water dish from home, though–check out these handy travel water bottles and dishes:
Pets First Portable PET Travel Dog on-The-go CAT Water Bottle: A combination of a leak-proof bottle with an attached bowl–an ultra-convenient way to give your dog a drink.
Dog Water Bottle Dog Bowls for Traveling Pet: Another bottle-type container, this one with a collapsible dish that clips onto its side.
MXZONE 3 Collapsible Silicone Dog Bowl: A brightly coloured, collapsible bowl that you can easily tuck away when you're done with it.
Tents Or Sun Shades For The Beach
Some owners also invest in shades to protect their dogs on the beach. These come in kennel-style and tent-style options. It's important to know that these aren't meant to contain your dog–they're thin-walled and generously ventilated in order to keep your dog cool.
Have a look at some of these great sunshade options:
CoolerDog Pup-Up Pop Up Dog Shade Tent Kennel: This well-ventilated kennel-style shade has a coated top to screen out UV rays.
Floppy Dawg Just Chillin' Elevated Dog Bed: This tent-style shade also has an elevated bed to give pets a place to rest off the hot sand.
Forceatt 2 and 3 People Beach Camping Shade Tent: Share shade with your pup in this large tent-style shade.
Even with sunscreen and shade, you should always watch a Chihuahua for signs of overexposure to the heat. Heavy or rapid panting, a swollen tongue, excessive thirst or drooling, and skin that's hot to the touch are all warning signs that a heat crisis could be becoming.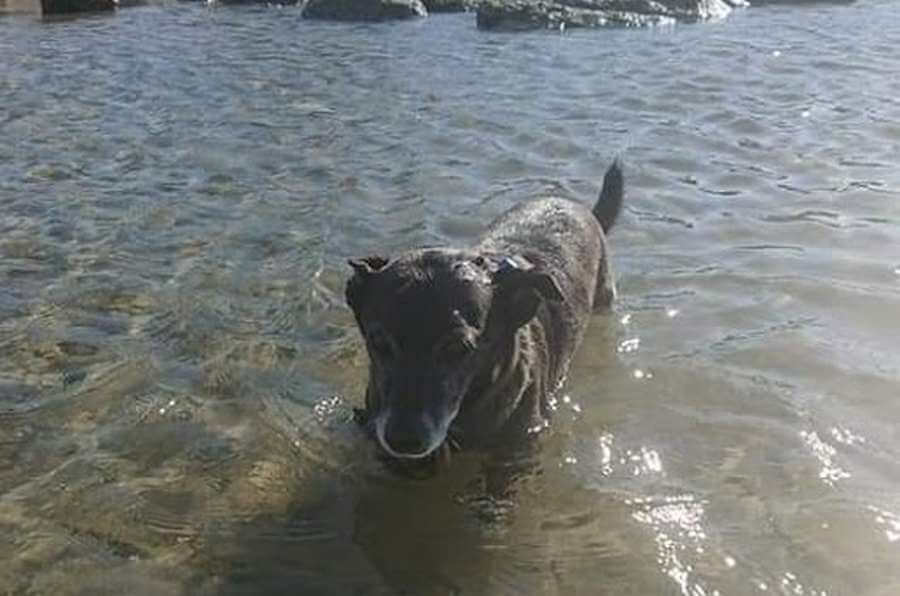 Do Chihuahuas Like to Swim?
As a breed, Chihuahuas don't enjoy the water as much as some other dogs. But that doesn't mean that no Chihuahuas like to swim–plenty do. They're an energetic breed and love to engage in activities with their families.
Introducing them to water gradually and making sure that they don't get too anxious is key to their enjoyment of swimming.
Start with a kiddie pool in the backyard. Once your Chihuahua feels safe in this first situation, you can move on to larger bodies of water. Don't expect the dog to get in the water in the beginning. Chihuahuas need time to familiarize themselves with new environments.
Once the larger body of water is a "safe space" for your dog, put on your dog's life vest and get in the water yourself. Try to get your Chihuahua to come to you with a toy or treat.
Or, if your dog has a playmate that likes to swim, see if you can get that dog to come along as a swim buddy–dogs want to do whatever other dogs are doing. Once your Chi has taken a dip, always dry them off right away–remember that they're easily chilled.
To see just how much some Chihuahuas like to swim, check out these fun videos.
Paco, a rescue Chihuahua, loves his family's pool:
See a careful owner gradually introduce her Chihuahua to swimming:
These owners take great care to be sure their Chihuahua knows how to get in and out of the water and feels very safe:
Safe Swimming For Your Pet At The Beach
As with the sun, some extra precautions are necessary when Chihuahuas are in the water. Unlike the water breeds, Chihuahuas are not built to swim. But they do have an intuitive ability to swim, like all dogs, and they're light enough that it's unlikely that they'll sink.
The issue they can face in the water is nerves–they can get anxious and use up their energy very quickly. It's important to watch a Chihuahua for heavy panting and other signs of overexertion.
All dogs that are just learning to swim should wear a life vest–and the Chihuahua, because of its tendency to get overexerted suddenly, should probably wear one even as an experienced swimmer. Here are some recommended life vests:
Outward Hound Dog Life Jacket is highly recommended as safe and reliable. It comes in a size small enough for your Chihuahua, and once your dog is more comfortable in the water, they can "graduate" to one made for more expert swimmers.
ZippyPaws – Adventure Life Jacket for Dogs: Zippy Paws, another outstanding company, makes this bright red, reflective life jacket with an attached rescue handle.
HAOCOO Dog Life Jacket Vest: This highly-rated jacket comes in a wide variety of colors and patterns to add a little style to your Chi's swim.
Conclusion
Getting your Chihuahua to enjoy the water may take some patience, but while your dog works up the courage to come in swimming, there's no reason you can't both be enjoying a day at the beach.
As long as you take your dog's temperament into account and take the appropriate safety precautions, you and your Chihuahua pal can play in the sun and sand to your heart's content.
More Pages on Dogs
link to Do Chihuahuas Shed A Lot?
There are so many factors to deciding what type of dog is right for you, and one stumbling block that can be often overlooked is the amount of shedding. Cleaning up dog hair is a pain. It can get...
link to What Problems Do Chihuahuas Have?
Anyone who has owned a Chihuahua knows that they are a breed all of their own. Although they are the smallest dog breed, they have a huge personality that makes them a fun and entertaining addition...